Frontier is ending F1 Manager 2022 support after just two months
The next update will be the game's last significant one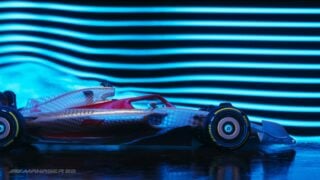 Frontier Developments has announced that it will no longer be releasing major updates for F1 Manager 2022, just two months after the game's release.
F1 Manager 2022 was released on August 30 and is the first F1 management game since EA's F1 Manager in 2000.
However, in a post on the game's official subreddit, community manager Chris Groves explained that the upcoming update for the game will be its last significant one, with the team now shifting its focus to future entries in the series.
"This next update for F1 Manager 2022 will be the last significant update that addresses player-reported feedback, or suggested changes and additions," Groves wrote. "Any potential updates following this would be minor patches that do not noticeably affect gameplay."
He added: "To ensure upcoming F1 Manager projects realise their potential and meet the expectations of both our team and our community, the development team's focus must move fully onto projects beyond F1 Manager 2022, after this upcoming update.
"Ever since we started to form the F1 Manager community, we've listened to and taken actions on your feedback and opinions whenever possible – and that will not be changing.
"Key reports and requests around F1 Manager 2022 from the community that are yet to be resolved will continue to be prioritised as we create future iterations in this franchise."
Update - Additional statement
Frontier has released an additional statement in which it's clarified that although it will not release any significant updates for F1 Manager 2022, it will continue to add improvements and resolve issues.
"It looks like there are some crossed wires within Frontier in relation to F1 Manager 2022," it wrote. "To be crystal clear: we will continue to support F1 Manager 2022, with multiple updates currently in the pipeline, focused on addressing the most important topics raised by the community.
"This continues with our upcoming update, which includes a number of changes and improvements, including resolving issues around Estimated Race Time calculations and fuel usage in Qualifying sessions, as well as additional updates, where required, focusing solely on improving your experience and addressing more player reports.
"Yesterday's post was to explain that the addition of any new significant gameplay features for F1 Manager 2022 requested by players would not be possible, but this was not clear.
"Everyone on the F1 Manager 2022 team remains focused on further improving the game, and your feedback is the driving force behind that. Thank you for your support, and we'll be in touch with a status update as soon as possible."
The news was met with hundreds of negative replies from disappointed players, some of whom claimed that the game felt unfinished at launch and was only just reaching the standard they had expected.
"With the next patch, we will have a game with the stable core aspects we should have had on release," said user jules3001. "This is what we should have had on release and the game is still very shallow. All the teams and drivers feel the same. All my saves feel the same."
"I mean, I can understand that you're trying to focus on F1 Manager 2023 now to make it better than 2022, but only 2 months of updates?" added user Gruphius. "And the updates even stop before the end of the F1 season? Damn, that's rough."
Others noted that the news will likely mean some outstanding issues will never be addressed, with some suggesting that the DRS 'boost' function in the game's cars is too overpowered.

"Gutted about no fix to DRS to be honest," said user Acceptable_War_7304. User SegsF1 replied: "Absolutely. It's horrible and immersion breaking . They couldn't even adjust it for the next update man .. total disgrace towards the community."
"What an absolute joke, shame on Frontier, and shame on you and your team," added user iiwfi. "Your product still contains game breaking bugs, and you think it's appropriate to just throw in the towel and move on?
"Here's a tip: If you don't have time to fix the game you already released before moving on to next year's version, then you have absolutely no business pursuing a yearly release model."
Despite the issues reported by players on its subreddit, F1 Manager 2022 has a relatively positive score between 74 and 80 on Metacritic (depending on format), and a "mostly positive" rating for its Steam reviews.
Frontier Developments announced in March 2020 that it had secured the rights to make a series of Formula One management games, with the licence providing it with the rights for four F1 seasons (2022 to 2025), subject to the achievement of certain financial performance thresholds.
Related Products
Immortals of Aveum (Xbox)
FIFA 23 - Standard Edition (PS4)
Some external links on this page are affiliate links, if you click on our affiliate links and make a purchase we might receive a commission.