Frontier debuts Foundry label with 'turn-based shooter' Lemnis Gate
Frontier Foundry will publish externally-made games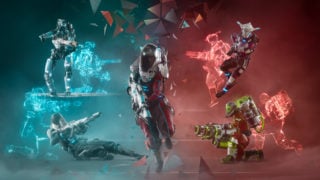 Frontier (Elite, Planet Zoo) has announced a new publishing label and debuted "turn-based shooter" Lemnis Gate as one of its first titles.
Frontier Foundry is the firm's new label within which it will sign external projects. The first Foundry title, physics-based co-op platformer Struggling, is out today for Nintendo Switch and PC via Steam.
Foundry's second game, Lemnis Gate, was unveiled during Gamescom: Opening Night Live on Thursday.
Developed by Ratloop Games Canada, Lemnis Gate tasks players with defeating opponents in 1v1 and 2v2 arena matches. Players have 25 seconds to execute an action, such as shooting an enemy or manoeuvring their character. After all players have taken turns, the next 25-second round begins.
There are five rounds in total, which Frontier says will give rise to a "near endless" variety of creative plays.
"Set up ambushes, fix past mistakes, and develop unbeatable game plans to out-think and outwit adversaries," it said. "By using non-linear logic, abstract thinking, and outlandish manoeuvres, no two battles are ever the same. Past, present, and future collide."
Before signing with Frontier, Lemnis Gate developer Ratloop had won the 'best gameplay' award from the Montreal Independent Game Awards 2019, and an 'outstanding original game' nomination from the Unreal E3 Awards 2019.
Lemnis Gate is available to wishlist on Steam now, and will be launching on PC, PlayStation 4 and Xbox One in early 2021.