Friday the 13th: The Game is being delisted in December, will cost $5 until then
The game will continue to function until the end of 2024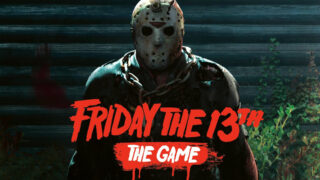 Friday the 13th: The Game will be delisted at the end of the year, publisher Gun Interactive has announced.
The asymmetrical multiplayer horror game was released in 2017 and has continued to enjoy something of a following, despite its dedicated servers being shut down in 2020 (peer-to-peer matchmaking is still possible).
However, Gun has now stated that its Friday the 13th licence will expire at the end of 2023, meaning it will have to pull the game from sale on that date.
Following this, the game will still be playable for at least another year, for those who already bought it.
"The time has come," a statement on the official Friday the 13th: The Game Twitter account reads. "Our license for Friday the 13th will expire on December 31st, 2023.
"On that date, Friday the 13th: The Game will no longer be available for sale, both physically and digitally. The game will, however, continue to function through at least December 31, 2024, if you already own it."
To compensate for the game's finite lifespan, Gun plans to permanently reduce the price of the game and its DLC until it's delisted. These price changes have yet to be implemented at the time of writing.
— Friday The 13th Game (@Friday13thGame) June 8, 2023
"At this time, we've made the decision to reduce the price to $4.99 for the base game and $0.99 for each piece of DLC content," the statement reads. "We will continue to offer the title and content at that price point right up until it is removed from digital/physical storefronts on December 31st, 2023.
"We would like to thank our community for the dedication they've shown to Friday the 13th: The Game and Gun Interactive as a whole, and we are happy the game will live on awhile longer and continue to be enjoyed by anyone owning the game already."
This will be another blow for Friday the 13th fans, following the delisting of critically acclaimed mobile game Friday the 13th: Killer Puzzle earlier this year due to "the inability to renew the licence".
It appears that fans won't have to go without for too long, however, because earlier this week Harry Manfredini, the composer for the movies, told Rely on Horror that he was working on a new Friday the 13th game that's unrelated to the existing one.
Gun has now moved onto a different classic horror franchise, with an asymmetrical multiplayer game based on The Texas Chain Saw Massacre due for release in August.