Four WWE 2K games have been removed from Steam, Xbox and PS digital stores
2K Sports delisted WWE 2K17-20 this month without warning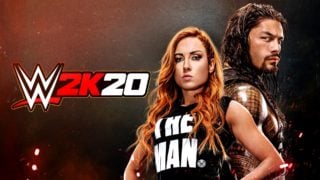 Four games in the WWE 2K series have been delisted without warning, it's been discovered.
Reddit user Popstasia noted over the weekend that only WWE 2K22 and WWE 2K Battlegrounds are left on Steam, meaning all other WWE 2K games have been delisted.
Another user posted changelog details from the Steam Tracker website which showed that WWE 2K17, 2K18, 2K19 and 2K20 all had their status changed to "purchase disabled" on July 13.
After investigation, VGC can confirm that the games are also no longer available on the Xbox or PlayStation digital stores, with only WWE 2K22 and WWE 2K Battlegrounds remaining there too.
It's still possible to redownload the delisted games and their DLC if they were previously purchased, but players can no longer buy the digital versions of each game or their DLC.
The only way players can now play these games is with physical Xbox or PlayStation discs, though DLC will still be unavailable for purchase.
The delistings appear to have come without warning from publisher 2K Sports, who had stated in May that it was planning to close the online servers for WWE 2K20 and 2K19.
"On June 30, 2022, we will sunset support for WWE 2K19 the WWE 2K20 servers," 2K tweeted. "This includes all online functions, such as online matches & Community Creations. We are turning our full focus toward supporting WWE 2K22. Thanks for your continued support!"
This announcement did not, however, make any reference to actually removing the games from digital storefronts.
VGC's WWE 2K22 review called the game "the comeback fans have been praying for", especially following the disastrous release of WWE 2K20, which was so critically panned that 2K decided to ditch WWE 2K21 and spend more time fixing what had gone wrong.
Related Products
Other Products
Some external links on this page are affiliate links, if you click on our affiliate links and make a purchase we might receive a commission.