Forza Horizon 5's language filter is being 'fixed' after banning some Arabic names
Word filter is being updated after players are told their real names are "inappropriate"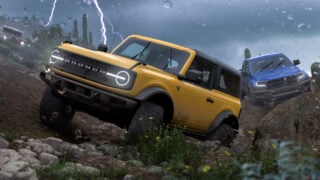 Microsoft has said it's planning to update a Forza Horizon 5 language filter after it flagged some Arabic names as "inappropriate".
Forza Horizon 5 lets players customise an in-game number plate, but several users have been told they can't input their own name.
They include Osama Dorias, a senior game designer at Warner Bros. Games Montreal, and Nazih Fatres, head of communications and localisation at games publisher The 4 Winds, both of whom were told their names had been flagged as "inappropriate content."
Forza Horizon 5 - the VGC review
"The eternal curse of not being allowed to use my legal name will forever haunt me," Fares said.
Approached for comment, a Microsoft spokesperson told Eurogamer: "We are aware and are working on a fix to evolve and adjust our content moderation."
Ahead of Forza Horizon 5's release this month, developer Playground Games detailed new series customisation options designed to "provide players with a more diverse cast of selectable characters" including the ability to choose prosthetic limbs and select pronouns.
Forza Horizon 5 will also soon be the first major game to include an optional sign language interpreter for cut-scenes.
The fifth entry in the open-world racing series enjoyed the "largest launch day" in the history of Xbox Game Studios, according to Microsoft.