Forza Horizon 5 will be the first major game to add a sign language interpreter
The game's accessibility options will include picture-in-picture ASL and BSL interpreters
Forza Horizon 5 will soon be the first major game to include an optional sign language interpreter for cut-scenes.
In a blog post on the official Xbox Wire news feed, Playground Games creative director Mike Brown explained how the team had been working with both Xbox and the disability community to include a wide range of accessibility features in the game.
Most of these accessibility options will be available at launch, and "coming soon" will be the ability to activate a picture-in-picture display of a sign language interpreter.
Players will be able to choose between American Sign Language (ASL) or British Sign Language (BSL) interpreters, who will appear any time an in-game cinematic plays.
You can see how the interpreter looks in-game at the end of the video embedded below:
Brown also listed the accessibility features that will be available in the game at launch. These can also be seen in the above video and include:
A Game Speed Modification setting that lets players slow the game down when playing offline.
A High Contrast mode that changes colours to make things such as menus and text easier to distinguish
A Colour Blindness mode that lets players with colour blindness better see game elements. This can be independently adjusted for UI and game visuals.
Subtitle customisation, including options to:

Turn subtitles on or off
Adjust the font size
Adjust the background opacity
Highlight key words

The option to customize menu and gameplay font size
A screen reader narrator that reads text, buttons, and other elements aloud
Text-to-speech and speech-to-text options for players that want to participate in Voice Chat and either need to send synthesised voice or receive voice chat as synthesised text
The ability to disable moving backgrounds
A notification duration setting, which lets players set how long notifications in the game appear
This is the latest in a string of attempts by Xbox to better incorporate accessibility options in both its games and its console ecosystem.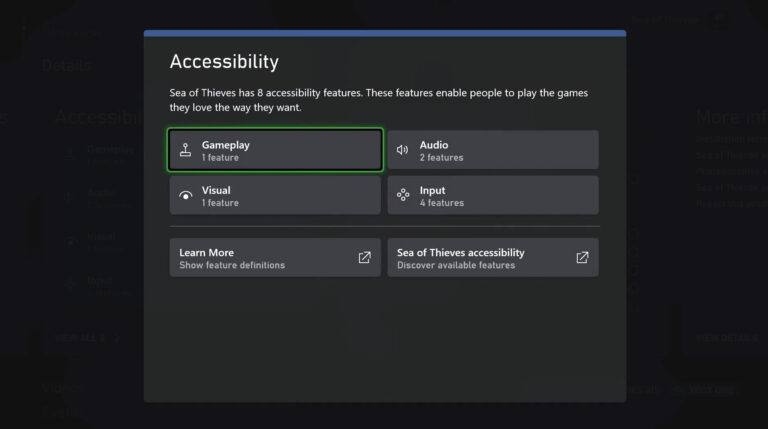 Last month it was announced that Xbox is adding accessibility tags to its digital store, to help players with disabilities tell whether a game is suitable for them.
Each list will consist of a selection of 20 tags, each representing specific accessibility features. According to an Xbox blog post, these features are the ones players commonly look for based on extensive user research, and include:
Narrated game menus
Subtitle options
Input remapping
Full keyboard support
Single stick gameplay
No button holds
To avoid confusion over what qualifies for each feature, developers aiming to make their games accessible will have to meet a specific set of criteria to have each tag applied.
For example, for a game to earn the 'subtitle options' tag, its subtitles need to be a certain size, and also need to have an option to increase their size by up to 200%.
Related Products
Other Products
Some external links on this page are affiliate links, if you click on our affiliate links and make a purchase we might receive a commission.