Forza Horizon 5 includes car horns based on Banjo-Kazooie, Doom and others
Battletoads, The Outer Worlds and Ori also feature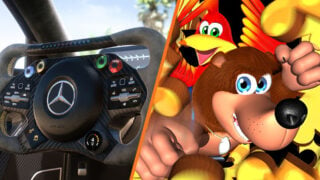 Forza Horizon 5 includes a number of new horns based on other popular Xbox franchises.
When Forza Horizon 4 was released in 2018, players found that among the numerous unlockable car horns were three special game-related ones.
These horns played the themes from Halo, Sea of Thieves and Killer Instinct.
For Forza Horizon 5, the previous three horns return but they're joined by seven new ones, which you can hear via the VGC video embed below:
Forza Horizon 5 - video game horns
These include the Spiral Mountain theme from Banjo-Kazooie, the theme from Battletoads, and the iconic rock music from the first level of the original Doom.
The full list of video game horns, which can all be heard in our video embedded above, is as follows:
Halo
Sea of Thieves
Killer Instinct
Ori and the Blind Forest
Banjo-Kazooie – Spiral Mountain (part 1)
Banjo-Kazooie – Spiral Mountain (part 2)
Battletoads
Doom – E1M1 (high part)
Doom – E1M1 (low part)
Forza Horizon 5 has raced to the top of review aggregator charts, making it the highest-rated new game of the year so far.
VGC's Forza Horizon 5 review called the racer "the first essential game of the generation".
"This is the best Forza Horizon has ever been," our review reads. "Because of this, it's among the best the racing genre has ever seen, and – as its predecessor accomplished before it – it's easily one of the best games this generation has seen so far."
It adds: "Forza Horizon 5 is the best game in the series and the best Xbox Series X/S game to date. Its flawless racing and wealth of activities are backed up by a gorgeous setting and a fantastic new progression system which encourages players to focus on the features they enjoy most. Utterly essential."
Forza Horizon 5 will be released on November 9, 2021 for Xbox Series X/S, Xbox One and PC.
Related Products
Some external links on this page are affiliate links, if you click on our affiliate links and make a purchase we might receive a commission.