Forza Horizon 4 enters top sellers list following Steam debut
Peak concurrent player count currently stands at 14,600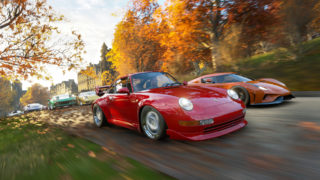 Forza Horizon 4 appears to be off to a decent start on Steam following its March 9 release.
The game is currently No.11 on the Steam top sellers list and had a peak concurrent player count of 14,609 earlier on Wednesday, according to SteamDB.
Forza Horizon 4's Steam launch marks the first time Microsoft's long-running racing series has been released on Valve's digital distribution platform.
Originally released for Xbox One and Windows PC in 2018, the game was updated for Xbox Series X/S in 2020, when it was also made available on Android devices through cloud gaming with Game Pass Ultimate.
The Steam version of the open-world racer, which is developed by UK-based Playground Games and takes place in Great Britain, supports cross-play with all other platforms.
Microsoft announced in 2019 that it would be bringing its first-party titles to Steam in order to give PC players more choice in where they buy games.
It has been claimed that Forza Horizon 5 could be set for release in 2021.
Meanwhile, Turn 10 has said that the next Forza Motorsport game—described as "a reimagining" of the series—is in early development.
In a trailer premiered in July 2020, the new Forza was confirmed as an Xbox Series X/S console exclusive.