Fortnite world champion 'swatted' during livestream
Situation was reportedly defused when armed officer recognised the esports star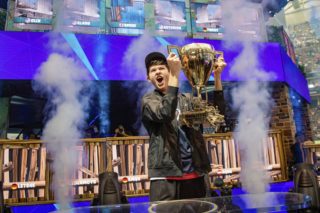 Fortnite world champion Kyle 'Bugha' Giersdorf claims to have been "swatted" while livestreaming the battle royale game over the weekend.
The teenage esports star was interrupted mid-stream when an armed officer came to his house following a hoax call.
After returning to the stream, Giersdorf told his Fortnite teammates he got "lucky" because the officer in question lived in his neighbourhood and recognised the 16-year-old.
The US teenager won the solo event at the inaugural Fortnite World Cup in July, earning $3 million for his efforts.
"That's scary," Giersdorf said of the swatting incident. "What if I just got offed? Jesus Christ, the internet's fucking crazy."
Swatting occurs when a hoax emergency call draws a law enforcement response, usually in the form of a SWAT team, and it can be fatal.
In December 2017, a Wichita police officer shot and killed Andrew Finch after a prank caller led authorities to what they thought was a hostage situation. The swatting call reportedly stemmed from a dispute over a game of Call of Duty.