Fortnite will reportedly be getting Paramount characters including TMNT
A new deal between Paramount and Epic has been agreed, it's claimed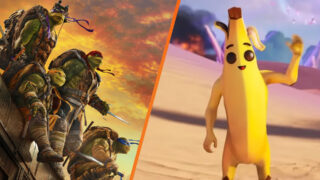 Paramount has reportedly signed a deal with Epic Games to bring some of its characters to Fortnite.
That's according to XboxEra writer Nick Baker, who reported the news in the latest edition of the publication's podcast.
"I've been told that apparently Paramount has signed a deal with Epic to bring properties to Fortnite," Baker claimed.
"The main one that I had heard about was the Teenage Mutant Ninja Turtles coming to Fortnite, which would be amazing."
Exactly how this deal works, if true, is unclear because the global rights to the TMNT IP are owned by Nickelodeon. However, Nickelodeon's shows are featured on streaming service Paramount+, and both Nickelodeon and Paramount are owned by ViacomCBS.
Paramount Pictures also released two live-action TMNT movies in 2014 and 2016
Baker suggested that the reported deal isn't for a single IP, but for a number of Paramount franchises.
He noted that Paramount owned such properties as South Park, Star Trek and the upcoming Halo TV show, but stressed that none of these had been confirmed to have a future presence in Fortnite.
"The main that was sort of semi-confirmed for me was the Ninja Turtles, that was the one I care about most," he clarified.
Fortnite Chapter 3 started earlier this month, featuring a new, flipped island, new challenges and a new battle pass headlined by Spider-Man.
At the end of Chapter 2 of Fortnite, Dwayne "The Rock" Johnson was revealed to be the voice of The Foundation, leader of The Seven, an organization in Fortnite that maintains order across the various dimensions that encompass Fortnite. A skin for his character is also earnable via the Chapter 3 battle pass.
Chapter 2 concluded with a live event called The End, during which players saw the island flipped upside down.
Epic announced recently that it had acquired Rock Band and Dance Central creator Harmonix "to create musical journeys and gameplay for Fortnite".
Alain Tascan, Epic's vice president of game development, said: "Music is already bringing millions of people together in Fortnite, from our emotes to global concerts and events. Together with the Harmonix team we will transform how players experience music, going from passive listeners to active participants."