Fortnite will be a PS5 and Xbox Series X launch game
Plus Epic to migrate battle royale game to Unreal Engine 5 in 'mid-2021'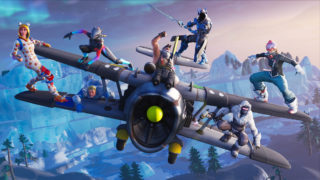 Epic will release Fortnite for PlayStation 5 and Xbox Series X at launch, it's said.
The popular battle royale game will also be among the first titles released with Epic's new Unreal Engine 5, it announced on Wednesday. Fortnite is currently built with Unreal Engine 4 but it will be migrated to UE5 in mid-2021.
Epic also announced its intention to share Fortnite's online suite with all developers via a multiplatform SDK. This includes services such as friends, matchmaking, lobbies, achievements, leaderboards, and accounts.
Epic has published a video of Unreal Engine 5 running on PlayStation 5.
'Lumen in the Land of Nanite' is described as "a real-time demo running live on PlayStation 5" and is both the first look at the next iteration of the popular game engine, and the first indication of the graphical fidelity PS5 could be capable of.
Epic said on Wednesday that one of its goals with UE5 was to "achieve photorealism on par with movie CG and real life, and put it within practical reach of development teams of all sizes through highly productive tools and content libraries."
Epic said last week that Fortnite has over 350 million registered players and that in April, players spent over 3.2 billion hours in the game.
Over 12 million concurrent players participated in a recent live Fortnite concert by American rapper Travis Scott, according to Epic.