Fortnite Season 6 will launch next week with a single-player event
Zero Crisis Finale kicks off on March 16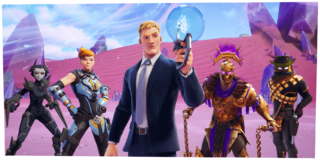 Epic has announced that Fortnite Chapter 2 – Season 6 will start on March 16, when it will kick off with a single-player narrative event.
Titled Zero Crisis Finale, the solo experience will centre on Agent Jones and act as a bridge between Seasons 5 and 6.
"When you first launch into the new Season, you'll play through the conclusion of Agent Jones' mission in the Zero Crisis Finale," Epic said. "The aftermath of this event is sure to shape Reality as we know it.
"Don't worry, the Zero Crisis Finale is a solo experience and you can play through it whenever you first log in during the Season.
"Want to watch it online first? We'll share details soon on how you can watch the global premiere with everyone, beginning with our most ambitious story cinematic yet!"
Epic also reminded players to spend all of their Gold Bars before they reset at the end of Season 5. It said characters across the island have increased their stock of Exotics and are offering them at a "huge discount".
Fortnite Chapter 2 – Season 5 arrived in December. It has seen Agent Jones bring together "the greatest hunters across all realities" including The Mandalorian and Baby Yoda, God of War's Kratos, Halo's Master Chief and many more.
A $12 monthly Fortnite subscription service launched alongside Season 5. In addition to the current season's Battle Pass, each month Fortnite Crew subscribers receive 1,000 V-Bucks and a DLC pack featuring exclusive outfits and accessories.