Epic has discounted Fortnite's prices and bypassed Apple and Google pay systems
Epic has long criticised "exorbitant" mobile fees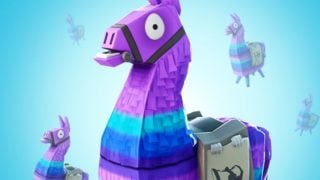 Epic has discounted all Fortnite microtransactions by 20%, as it moves to bypass Apple and Google store fees.
On consoles, PC and Mac, all V-Bucks and real-money offers have been permanently discounted by 20 percent, Epic said.
On iOS and Android, Epic direct payment has been introduced, which offers the 20% discount alongside the standard App Store and Google Play prices.
The new payment method appears to breach App Store rules for in-app purchases, and it's not clear if the platform was aware of the addition before today's announcement.
"Currently, there are no savings if players use Apple and Google payment options, where Apple and Google collect an exorbitant 30% fee on all payments," Epic said in a press statement. "If Apple and Google lower their fees on payments, Epic will pass along the savings to players."

It added: "By offering an alternate payment system, we're not only offering players more choice, but we're able to pass along the savings to players."
Epic claimed that "thousands of apps on the App Store approved by Apple accept direct payments," including commonly used apps like Amazon, McDonalds, Uber, and StubHub. "We think all developers should be free to support direct payments in all apps," the company said.
Epic takes a 12% revenue cut from games published on its own Epic Games Store.
Players that purchased V-Bucks or purchased a real-money offer like Summer Legends in the last 30 days will be granted a 20% V-Bucks bonus by August 17, Epic said.
Epic has long criticised the mobile platforms' 30 percent payment fees. Last month Epic CEO Tim Sweeney accused the two companies of being a "duopoly", and accused them of charging excessive fees compared to their operating costs.
"You can't have a tech monopoly dominating all, all interactions between consumers and businesses on a scale of billions of users," Sweeney told Bloomberg. "It just creates the same sorts of a concentration of power problems. It's the railroads, right?"
Sweeney said the solution would be to unbundle different services that the companies offer, including separating payment services from app stores and allowing competing stores.
"They don't allow competing stores," Sweeney said. "Imagine a town that only allowed a Target and disallowed any other stores from building. I mean, that's totally un-American and uncompetitive. But that's exactly what Apple does in an absolute sense."
Related Products
Other Products
Some external links on this page are affiliate links, if you click on our affiliate links and make a purchase we might receive a commission.