Former Miss Moneypenny Samantha Bond has been cast in Evil Genius 2
She will be voicing one of the game's anti-heroes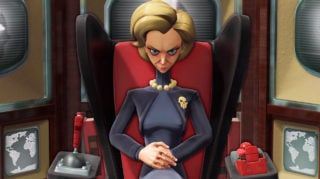 A former Miss Moneypenny will now be jumping over to the dark side in Evil Genius 2.
Samantha Bond played the role in the four Pierce Brosnan era Bond movies – GoldenEye, Tomorrow Never Dies, The World is Not Enough and Die Another Day – but will now be voicing Emma, one of the four playable villains in the sequel to the cult 2004 crime sim.
Bond joins the previously announced Brian Blessed, who also plays one of the four bad guys. Completing the group are Glen McCready (Years and Years, Space 1999) and Rakie Ayola (Noughts and Crosses, Doctor Who: Midnight).
Like its predecessor, Evil Genius 2 has players building their own secret lair, training minions and recruiting henchmen before dispatching them on missions across the globe.
In-game missions range from kidnapping the Governor of Maine to melting Alaska, to selling the British Royal Family. Players can also recruit and train henchmen and troopers and send them all over the world to commit evil deeds in their name.
Evil Genius 2 launches on Steam on March 30. Players who pre-purchase the game get 10% off, or 15% off if they already own the original Evil Genius.
Pre-purchasing the Standard Edition will also earn players two special items: the Fountain of Youth (which gives minions a stat boost) and the Trojan Horse (which can be placed in their lair to unlock new schemes). Pre-purchasing the Deluxe Edition also adds a unique Aurora Borealis item which can be used to decorate players' lairs.