Former creative director hopes BioShock 4 takes an original approach
Jordan Thomas says he'd like new game to surprise players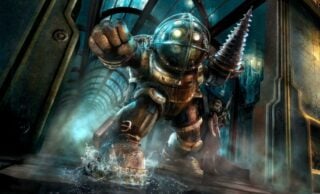 A key creative behind the BioShock series has said he hopes the fourth game in the series takes an original approach and is "unbound" by the past.
Publisher 2K confirmed in December that work has begun on a new entry in the BioShock franchise at its newly announced Cloud Chamber studio. The new BioShock will be in development "for the next several years," the publisher said.
Scott Sinclair, the art director of the original BioShock and BioShock Infinite, is working on the new game, among others.
Commenting on the news, Jordon Thomas – who worked across all three BioShock games as a writer, designer and creative director – told journalist Samuel Horti that he hopes Cloud Chamber has the freedom to surprise players.
"I hope they cast off the chains of the past, that they feel as unbound as possible," he said. "That is what I'd hope the series [is] known for: taking you to places you didn't expect, thematically and physically."
Before his departure in 2013, Thomas helmed the second game in the BioShock series at 2K Marin, a sequel he now claims suffered due to interference from its publisher.

BioShock 2 was created by a new team and while it received critical praise, the acclaim didn't quite match that of its predecessor.
The designer told Horti in a TechRadar article that development of the second game was a "heartbreaking series of returns to reality" as he was forced to balance his creative direction with the need to meet commercial demands.
The designer claimed he initially intended to create a dreamscape version of Rapture's past, through which a Little Sister – one of BioShock's tragic child slave characters – would discover her own history. But he eventually had to "step out of the way" for the version of the game higher-ups wanted, "with little dashes of the surrealism I so adore".
Thomas also cited the impact BioShock as a series has had on the indie space, saying that developers who had experienced the tension between the game's story and mechanics responded with their own take.
"[BioShock] is still a bombastic action shooter, but it can be seminal in the sense that it inspired people to try harder, and to exceed what we managed to do," Thomas said.
"And I think there's a role for games like that. You can be deeply critical of all three games, but I do think it asked people: 'Hey, could we do a little more?' I'm glad to see the industry get a little bit more interested in what their games are saying."
Related Products
Other Products
Some external links on this page are affiliate links, if you click on our affiliate links and make a purchase we might receive a commission.