Following new delay claims, an official Hogwarts Legacy update reiterates 2022 release plans
The open-world RPG was originally planned to arrive last year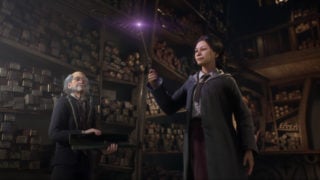 Following claims that Hogwarts Legacy's release could be delayed to next year, an official update has stated that the game is on track to arrive in 2022.
Developed by Avalanche Software (Disney Infinity), Hogwarts Legacy is an open-world action RPG set in the world first introduced in the Harry Potter books.
Due to be published by Warner Bros. under its Portkey Games label, Hogwarts Legacy was originally scheduled to be released in 2021 for PS5, PS4, Xbox Series X/S, Xbox One and PC.
Hogwarts Legacy reveal trailer (4K)
But around this time last year, Warner delayed the game's release window to 2022.
The possibility of a further delay to 2023 was raised by journalist Colin Moriarty during a recent podcast, in which he claimed: "I'm hearing behind the scenes that game is not coming out this year, and that it's in some sort of trouble."
However, an official update on Wizarding World Digital this week stated that "the Hogwarts Legacy video game will be arriving this year".
It reads: "2022 is also the year when the highly anticipated console game from Warner Bros. Games' Portkey Games label, Hogwarts Legacy, is set to be released.
"Developed by Avalanche Software, this action RPG allows players to be at the centre of their own adventure set during the late 1800s wizarding world.
"From learning powerful spells and brewing potions, to honing combat skills and taming magical beasts, this game will allow players to experience the magical world as a student at Hogwarts School of Witchcraft and Wizardry like never before as they determine the fate of the entire wizarding world."