Flight Simulator is currently the highest-reviewed PC game of the year
Microsoft's sim receives near-universal acclaim in first media reviews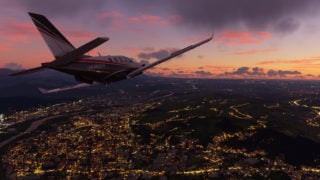 Microsoft Flight Simulator has received near-universal acclaim in its first media reviews, with review score aggregator Metacritic ranking it as the highest-reviewed PC game of the year so far.
Currently, the Asobo and Xbox Games Studios title has a metascore of 93 from 21 reviews, which under Metacritic's algorithm places it just within the top reviewed PC titles of all-time.
However, many outlets are yet to review the game and some have opted to publish in-progress verdicts, so the game's Metascore could yet change.
In VGC's Flight Simulator review, our critic calls the game "stunningly gorgeous, remarkably detailed" and "a triumph for both expert players and flight rookies."
Microsoft Flight Simulator is available on PC and Game Pass for PC from Tuesday, August 18. An Xbox console release is expected in the near future.
---
Flight Simulator review round-up
VGC (5/5) – "For Asobo to have recreated the entire world in such a stunning way is an incredible accomplishment, and for it to have also produced a game that's either the most detailed flight sim ever or the perfect entry point for complete novices who just want to play with a controller is similarly impressive."
IGN (10) – "Microsoft Flight Simulator is legitimately incredible. It's difficult to fully describe how amazing it feels to jump into a plane and have the freedom fly to and from literally any place in the entire world."
Trusted Reviews (4.5/5) – "Microsoft Flight Simulator is a triumphantly ambitious venture which pushes the boundaries of photorealism in the gaming medium."
Stevivor (9/10) – "Flight Simulator's not only great for a trip through your past, but critical in making new memories and connections in the middle of a pandemic."
Eurogamer (Essential) – "Over the past month or so, Microsoft Flight Simulator has sent me on a spiral of discovery, exploring the world as well as the often mundane, frequently magical detail of air travel, my appreciation of what Microsoft and Asobo have achieved growing all the while."
AusGamers (10) – "Does the sense of awe wear off? Is the sense of isolation there when you're alone at 15,000 feet? The sheer beauty and scope of the explorable Earth is here to tell us no."
PCGamer (In progress) – "Whatever criticism you might throw at Flight Simulator 2020, it's tempered by the fact it recreates the entire planet in extraordinary detail, and then lets you fly anywhere on it."
PCGamesN (In progress) – "For all the loading screens and post-crash rebooting I've endured, none of it has dulled the game's splendour or chipped away at the awe induced by the things I've planned, done, and seen in between them."