First WWE 2K20 screenshots released ahead of imminent reveal
Details about the Yuke's developed game arriving next week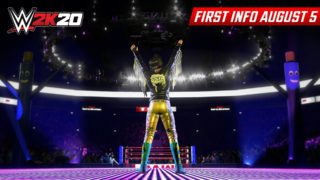 2K has released the first WWE 2K20 screenshots ahead of an upcoming product reveal scheduled for August 5.
The images feature SmackDown Women's title holder Bayley and Universal champion Brock Lesnar.
New instalments in the annual wrestling franchise traditionally launch in October, with WWE 2K19 released on PlayStation 4, Xbox One and PC last year.
The latest release was widely considered to be a return to form for the series, but otherwise it has been criticised in recent years for a decline in quality.
VGC recently visited the Tokyo headquarters of veteran WWE 2K developer Yuke's to interview senior vice president and producer Hiromi Furuta.
She revealed that the studio, which is behind 20 years (and 70 million sales) of licensed wrestling games, has established a new development team tasked with creating a rival wrestling IP in order to create internal competition for its WWE projects and reinvigorate its staff.
"I think having no competitor isn't healthy at all," Furuta said. "When we had competitors in the wrestling space, we were determined not to lose and that was a great motivator for creating something great."
Furuta confessed Yuke's has become frustrated with what it has been able to achieve with recent WWE 2K games, and suggested that its relationship with publisher 2K Sports (American studio Visual Concepts also contributes to the WWE 2K series) is partly responsible.