First Super Mario Bros. Wonder review published in Famitsu
The game will be released on Nintendo Switch later this week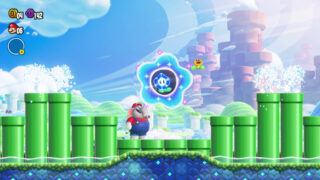 The first Super Mario Bros. Wonder review has been published in Japanese magazine Famitsu.
As reported by Ryokutya2089, issue 1820 of the weekly publication – which will arrive on Japanese shelves on Thursday – gives the game a review score of 36/40.
Each Famitsu review sees four critics each review the game and contribute a score, which is then added up to the total.
VGC review now live
VGC's Super Mario Bros. Wonder review is now live to read.
"Inventive and full of heart, with a tight design and striking presentation, Super Mario Bros. Wonder is undoubtedly the plumber's most memorable 2D outing since the 1990s."
The four reviewers gave the game a 10, 9, 9, and 8 respectively.
Famitsu says Wonder goes beyond traditional 2D side-scrolling action and reserves particular praise for its Wonder effects, which it says are at the core of its excitement.
The game sets a good balance for beginners and veteran players, the review says, such as by allowing players to ignore more challenging stages should they wish.
Finally, the review praises Wonder's online element, which it says allows players to help each other while at the same time not influencing each others' games too much (the game has a spirit mechanic similar to the Dark Souls games, so players' ghosts will appear in your game even in solo mode).

Wonder missed out on the coveted Famitsu 40, the highest awarded by the magazine. This year, the score has been achieved by The Legend of Zelda: Tears of the Kingdom and Street Fighter 6. 
Set for release on October 20, Super Mario Bros Wonder is the first 2D Mario game since New Super Mario Bros U in 2012.
The game appears to introduce the most significant changes to the classic formula since the 1990s, with a new art style and a 'Wonder' mechanic which transforms stages in surprising ways.
In VGC's recent Super Mario Bros Wonder hands-on preview, we said the game "feels like a modern Super Mario World".
"Wonder is definitely looking like an incredibly promising step forward for the Mario Bros series," we wrote. "Can it live up to Mario's heyday? There's only little over a week left until you'll get to find out for yourself."
---
For more Mario Bros. Wonder, check out our guides for how to unlock the Special World levels and locations for all Mario Wonder secret exits. At the end? Find out how to unlock the final badge and how to beat the Final-Final Test.