Firewatch publisher reveals new handheld console
$150 Playdate system backed by indie developers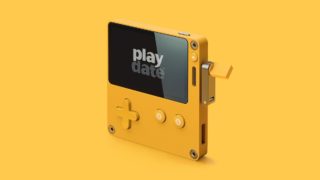 Portland-based software maker and game publisher Panic has announced plans to launch a new handheld console called Playdate in early 2020.
The system features a 2.7-inch black-and-white screen with a resolution of 400 × 240 — around four times the pixels of the Game Boy's screen.
It has a D-pad and two buttons, plus a crank which flips out from the side of the device — "a rotating analogue controller that puts a whole new spin on games", according to Panic, which has predominantly developed Mac and iOS software for the last 20 years, but is also the publisher of 2016's Firewatch and the upcoming Untitled Goose Game.
Playdate will cost $149 when it launches early next year and buyers will get a 12-game "season" as part of package, with titles specially made by indie developers including Zach Gage, Bennett Foddy and Katamari Damacy creator Keita Takahashi.
A new game will be released each week via Wi-Fi. Some games will use Playdate's crank exclusively, like Crankin's Time Travel Adventure, while others won't use it at all.
Panic says Playdate stock will be "very limited". You can register your interest in the system here.