Fire Emblem Three Houses review round-up: huge praise for Switch exclusive
Intelligent Systems RPG out this week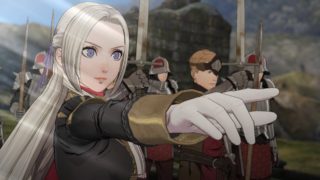 Fire Emblem: Three Houses reviews have started to go live ahead of the game's Nintendo Switch release this Friday, July 26.
VGC's Fire Emblem: Three Houses review calls the game a "real achievement" even if it does sometimes strain under the weight of its grand ambitions.
Read on to see what others thought of the strategy RPG, which is developed by Intelligent Systems and published by Nintendo.
VGC (4/5) – "Intelligent Systems has gone big with its latest Fire Emblem and it's a real achievement, layering up the base game with an absorbing system of customisation options and character development. But at times it feels too big, and will demand plenty of time and patience to see it through."
Nintendo Life (9/10) – "This sets a new standard for what a strategy RPG can be and most certainly proves itself to be the next must-have release for the Nintendo Switch."
USgamer (4.5/5) – "While it loses momentum in the second half, it still manages to come off as a striking reinvention of the well-worn Fire Emblem formula. That makes its first real console appearance in more than a decade a triumph."
Eurogamer (no score) – "Fire Emblem goes back to school for the most epic, generous and dynamic outing for the series yet."
VG247 (no score) – "Whatever path you choose, Fire Emblem: Three Houses is an absolute blast. It's the best Fire Emblem title since Awakening, and it goes straight onto my list of must-play Switch games."
GameSpot (9/10) – "When all was said and done, all I could think about was starting another playthrough… whether you're managing inventories or battlefields, it's the kind of game that's hard to put down, even when it's over."
The Guardian (4/5) – "By turns grandiose and silly, but always engrossing, this bubbling school soap opera is a game to spend a summer with."
IGN (9.5/10) – "Fire Emblem: Three Houses succeeds in its ambitious telling of a land at war helmed by captivating leaders, in which no side has all the answers."
Destructoid (9.5/10) – "A hallmark of excellence. There may be flaws, but they are negligible and won't cause massive damage."
TheSixthAxis (9/10) – "A masterpiece of strategy, story-telling and intertwining relationships, Three Houses deserves to make Intelligent Systems a household name."
ShackNews (9/10) – "All in all, Fire Emblem: Three Houses does a great job of bringing the series to the Nintendo Switch."
Famitsu (37/40) – "With the Officer Academy life as the axis, the way it's created – where you can taste even more fun in interacting with and sensing the growth of characters – is excellent and great."
Metro (7/10) – "A disappointingly clumsy attempt to evolve the Fire Emblem formula, that takes little advantage of being on the Switch, but the anime melodrama and fun combat still entertains."
Related Products
Other Products
Some external links on this page are affiliate links, if you click on our affiliate links and make a purchase we might receive a commission.