Final Fantasy 16 'only has a few quality improvements left', says producer
Yoshida provides a development update at TGS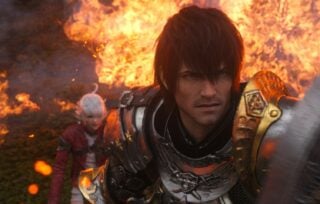 Final Fantasy 16's producer provided a small development update during a Tokyo Game Show stream this weekend, and claimed that Square Enix was currently putting the final touches on the PS5 RPG.
Speaking during a TGS live stream on Saturday, Naoki Yoshida reiterated that Final Fantasy 16's main design is complete and claimed that the development team is currently finalising the remaining side quests set to appear in the game.
Yoshida said that the game's character models are also nearly finished and that there are only a few quality improvements left to be done on the game.
The Square Enix producer previously said that the company wanted to show FF16 at TGS, but the game's development team wasn't able to make the deadline.
Final Fantasy XVI reveal trailer - Awakening (PS5)
Final Fantasy 16 is yet to be given an official release date. However, Square Enix has suggested that the game's development is at an advanced state since its announcement a year ago.
In October 2020, Final Fantasy 16's recruitment page stated: "We have already completed basic development and scenario production, and are continuing to create large-scale resources and build boss battles while expanding our various development tools."
Square Enix officially announced the new Final Fantasy instalment during a PS5 showcase in September 2020.
While no release timing was confirmed, the reveal featured almost four minutes of footage from various aspects of the title, suggesting it was significantly into development.
Final Fantasy 16 is being directed by Hiroshi Takai, the designer who performed the same role for Final Fantasy XIV and The Last Remnant.
"Though we're pouring our hearts and souls into this project each and every day, it may still be some time before we can get it into your hands", he said in September. "However, I promise it will be worth the wait!"
Final Fantasy 16's reveal trailer originally referenced a PC release, although this was eventually removed. Asked to clarify the situation, Square Enix later said: "We have no further information on if FF16 will be released on platforms other than the PS5."