FIFA 23 Ultimate Edition includes the franchise's first ever female global cover star
Chelsea's Sam Kerr will appear alongside PSG's Kylian Mbappé on the box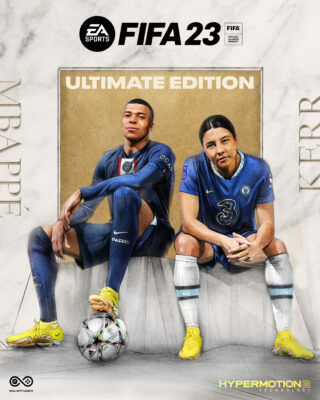 Electronic Arts has revealed the FIFA 23 Ultimate Edition and its cover stars.
Gracing the cover of the Ultimate Edition are PSG and France star Kylian Mbappé and Chelsea and Australia women's forward Sam Kerr.
The latter's appearance on the box marks the first time a FIFA game has had a female player as one of its global cover stars.
EA plans to announce more details about this year's series entry later this week, with the FIFA 23 reveal trailer set to arrive on Wednesday.
The company confirmed in May that it is to end its partnership with FIFA following the release of the next entry in its long-running football series.
Following FIFA 23's release later this year, EA will begin "a new era in July 2023" with the introduction of the EA Sports FC series.
After ending its near 30-year partnership with FIFA, EA said it will launch the new franchise alongside over 300 licence partners.
FIFA has also confirmed plans to launch a rival game to the EA Sports FC series.
World football's governing body said in May that discussions were ongoing with "leading game publishers, media companies and investors" in regard to the development of a new FIFA simulation football game for 2024, which would directly compete with EA's new series.
Before then, FIFA said multiple "non-simulation" games were already under production and would launch during the third quarter of this year, the first of which is described as "a tailored gaming experience" featuring the FIFA World Cup Qatar 2022.