FIFA 22's Early Access trial is available today on EA Play and Game Pass Ultimate
Players will be able to play the full game ahead of its release for 10 hours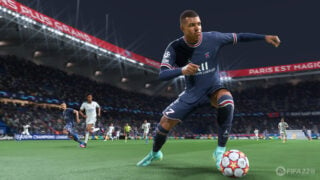 The Early Access trial of FIFA 22 is available later today for anyone with an EA Play or Xbox Game Pass Ultimate subscription.
The latest game in EA's football series is released on October 1, but the Early Access trial lets subscribers download the full game in advance and play it for up to 10 hours in total.
All achievements and progress are saved during these 10 hours, meaning if players decide to buy the game after the trial period ends they will be able to carry on where they left off.
To get access to the trial, players will have to be subscribed to the EA Play subscription service, which is available on Xbox, PlayStation and PC.
Xbox players who are subscribed to Xbox Game Pass Ultimate already get EA Play as part of their subscription, and will also be able to download the trial.
FIFA 22 will be released on October 1 for PS5, PS4, Xbox Series X/S, Xbox One, PC and Stadia.
A new gameplay trailer released in July showed off some of the new features added to the game, including the new machine learning-based player animations, improved tactical AI and overhauled goalkeeper performance.
FIFA 22 will make use of what EA is calling HyperMotion technology, which uses machine learning to create bespoke player animations on the fly.
"A cutting-edge proprietary machine learning algorithm learns from over 8.7 million frames of advanced match capture, then writes new animations in real time to create organic football realism across a variety of interactions on the pitch," EA claims.
"Learning from more than 8.7 million frames from Advanced 11v11 Match Capture, the ML – Flow machine learning algorithm writes new animations in real-time, enabling players to better adjust their stride and running cadence on approach to the ball to control or strike it more smoothly."
The EA Play service was added to Xbox Game Pass Ultimate on November 10, 2020, the day Series X and S launched.
Formerly known as EA Access, the subscription service grants members unlimited access to full versions of selected back catalogue games.