FIFA 21 update reduces the number of yellow cards and addresses stoppage time whistle issue
Patch includes bug fixes for various game modes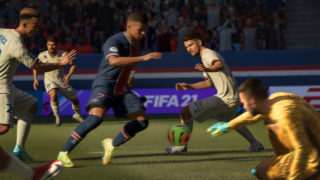 Electronic Arts has rolled out FIFA 21's fourth title update for Xbox One, PS4 and PC.
Gameplay changes include adjusted referee logic designed to reduce the number of yellow cards being dished out, while the Ball Roll to Scoop Turn combination now requires a five star skill move rating to perform.
The update also addresses an issue which sees referees blowing the whistle to end the game during inappropriate moments in stoppage time, such as when a shot has already crossed the goal line. A bug which resulted in players briefly floating in the air has been fixed too.
A full list of changes and bug fixes across all game modes can be found here.
EA recently confirmed that the next-gen versions of FIFA 21 and Madden NFL 21 will release on December 4, several weeks after the Xbox Series X/S and PlayStation 5 launches.
The games will support EA's Dual Entitlement scheme, meaning players can upgrade their copy from PS4 to PS5, or from Xbox One to Xbox Series X/S at no extra cost. However, physical discs cannot be used to upgrade to discless consoles.
Last week a Netherlands court ruled against EA in a FIFA loot boxes case. Its decision allows the Netherlands Gambling Authority to fine the publisher €500,000 every week it sells loot boxes in FIFA Ultimate Team, although EA subsequently told VGC it would appeal the ruling.