Fewer Horizon Zero Dawn PC updates planned as Guerrilla shifts focus to Forbidden West
Latest patch includes crash fixes and performance improvements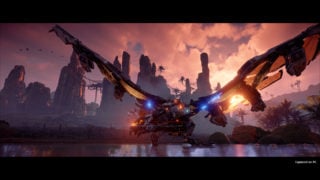 Guerrilla Games has said it plans to offer fewer updates for the PC version of Horizon Zero Dawn as it shifts more resources to the game's upcoming sequel.
The news was announced alongside the release of patch 1.10, the latest in a series of updates designed to address a range of technical issues that have been present since the game's release in August 2020.
The latest update includes crash fixes, plus performance and graphical improvements (see full patch notes below).
"As our team continues development on our upcoming title Horizon Forbidden West, we are shifting to less frequent updates for Horizon Zero Dawn Complete Edition for PC after this patch," it said. "Please note that we will continue to monitor our community spaces as always!
"We want to thank you all for your continued support and for sending in your crash reports over the past months. The information we received through your reports was invaluable to further investigate and help fix some of the trickier issues that we fixed in Patch 1.10."
The PC version of Horizon Zero Dawn reportedly sold 716,000 copies digitally during its release month. According to Nielsen's SuperData, the game had a PC launch "nearly as large" as The Witcher 3: Wild Hunt, while its launch month sales were up 50% compared to the PC edition of Death Stranding.
Guerrilla announced Horizon: Forbidden West for PS5 in June 2020 ahead of a planned 2021 release date. The game was later confirmed for PS4 too.
Prior to the sequel's announcement, VGC revealed that PlayStation and Guerrilla are planning a Horizon Zero Dawn trilogy.
Horizon Zero Dawn PC patch 1.10
Crash Fixes
Crash fix for when players continuously pressed the windows key
Crash fix for when you press the LMB on the ESC button in the Benchmark Results
Performance Improvements
Fixed an issue which saves up to 250MB of VRAM on all AMD GPUs
Graphical Improvements
Fix for negative values in cubemap relighting shader (fixes for example the red graphical glitches in the Hades fight if you let the timer run out)
Fix for the graphics settings preset name not updating when you pressed Auto-Detect
Fix for the menu (and loading screen) being displayed at incorrect scale when changing AF in borderless mode
Fix for the resolution sometimes being too low in windowed mode
Fix for the errands quest list overlapping with tutorial quest list
Other Changes
Graphics settings are now stored in a text file instead of a binary file to facilitate easier tweaking