February's Apple Arcade games include Team17 USA's Farmside
It joins Castle Crumble and new versions of Riptide GP Renegade and Lifeline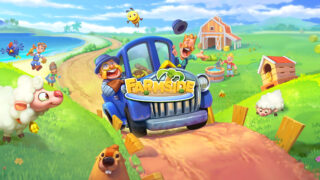 Apple has announced the latest batch of games set to arrive on its Apple Arcade service in February.
The new additions include Farmside, an Apple Arcade exclusive title from Team17 USA.
The first game to be released on the service in February is Castle Crumble, which is made by the studio behind Spire Blast and arrives on February 3.
This is followed on February 10 by Riptide GP: Renegade+, an updated version of the popular Android and iOS game. The standard version costs $2.99 but this version is included as part of the Apple Arcade subscription.
Farmside then follows on February 17, and is the first Team17 USA game since its acquisition of indie mobile publisher The Label.
Finally, Lifeline+ arrives on February 24. Like Riptide GP: Renegade+, this is an Apple Arcade-only version of an already popular title, which is normally a paid title but is instead available as part of an Apple Arcade subscription.
Apple's full descriptions for each game are as follows:
Castle Crumble
Embark on an adventure and conquer a variety of kingdoms and unique biomes.
In Castle Crumble the goal is clear — castles must crumble. Become a hero in far fantasylands and explore visually distinctive worlds.
Players can cannonball amazing castles with powerful explosives, mystical spells, and more in this physics-based puzzle game.

---
Riptide GP: Renegade+
Riptide GP: Renegade+ drops players into a futuristic world of illicit hydro jet racing, where armored riders kick out death-defying stunts over massive waterfalls, outrun cops, and boost at breakneck speeds across surging waves.
Players will jump into the role of a hydro jet racer, cast out from the Riptide GP league, they'll be forced to race illegally through city waterways, flooded ruins, and churning factory machinery in an effort to reclaim their reputation and title.
Play through the single player career to unlock new vehicles, playable characters, and customization features, or battle opponents around the world in 8-player online matches.

---
Farmside
Build your dream farm in Farmside, a farm simulation game that combines fun, farming, rich customizations, and a deep quest system.
After rediscovering a forgotten letter detailing the existence of an inherited but abandoned family farm, players travel to Nemo Island to start a new life away from the big city.
On Nemo Island, players can create a fully expanded farm filled to the brim with decorations, meticulously placed crops, orchards, crafting machines, and more, while also completing a variety of quests and challenges.

---
Lifeline+
Lifeline+ is a playable, branching story of survival against all odds.
Players are tasked with helping Taylor, a science student from Earth that has crash landed on an alien moon, make life and death decisions, and face the consequences together.
A deep, immersive story of survival and perseverance, with many possible outcomes — Taylor's story plays out in real time, with notifications delivering new messages throughout the day with realistic delays between story snippets.

Last month the highlight on Apple Arcade was Pocket Card Jockey: Ride On, a remake of Game Freak's cult 3DS game Pocket Card Jockey.
The game has players clearing Solitaire decks, with their performance affecting how well their horse performs. After this, the player chooses the horse's position on the racetrack to avoid hitting other horses.
In VGC's Pocket Card Jockey: Ride On review, we said the game was "a great way for fans of the 3DS version to upgrade to a more modern revamp, and for those who missed out to try out a brilliantly unique concept for the first time".
"Like its 3DS predecessor, Pocket Card Jockey takes a delightfully silly premise and uses it to create an oddly engaging and highly engrossing puzzle game," we added. "Its repetitive nature makes it a one-trick pony, but if it's a trick you click with it's difficult to put down."
Related Products
Some external links on this page are affiliate links, if you click on our affiliate links and make a purchase we might receive a commission.