Fast & Furious Crossroads release timing 'uncertain following film delay'
Vehicular-heist action game was scheduled for May 2020 launch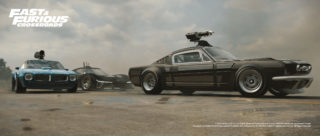 Codemasters says the launch window for its in development Fast & Furious game is "uncertain" following a delay to the latest entry in the movie franchise.
Universal recently pushed F9's theatrical release from May 2020 until April 2021 due to concerns over the coronavirus, and there could be a knock-on effect for licensed IP game Fast & Furious Crossroads, which was also scheduled to launch this May.
Billed as a "team-based, vehicular-heist action game set in the adrenaline-fueled Fast & Furious universe", Crossroads is in development for PS4, Xbox One and PC at Project Cars maker Slightly Mad Studios, which Codemasters acquired in 2019, and is set to be published by Bandai Namco.
Codemasters said in a statement that it's continuing to work on the game to the existing schedule with a view to releasing it by June 2021.
"While not directly tied to the film, news and updates pertaining to the Fast & Furious Crossroads Game will be shared once they become available. The development team at Slightly Mad Studios and Codemasters will continue to finalise the Game as planned.
"Timing for the launch of the Game is now uncertain but, provided the Company releases the F&F Game in Q1 of FY21, the Board anticipates that the later release date of the F9 Film will not have a material impact on its financial expectations for FY21.
"A further announcement will be made in due course to confirm the release date of the F&F Game, following discussions with Bandai Namco Entertainment Europe and Universal Games and Digital Platforms."