Far Cry 6 review: When will reviews go live?
All the Far Cry 6 review details you need in the lead up to release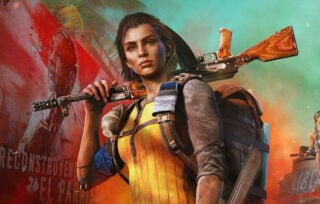 Far Cry 6 review scores will go live on October 6, according to information shared publicly on NeoGAF.
Reviews will be aggregated shortly after this date on sites such as Metacritic and Open Critic, where VGC's own reviews are also listed. We'll update this story as soon as our Far Cry 6 review goes live.
Far Cry 6 will launch on October 7 for Xbox Series X/S, Xbox One, PS5, PS4, and PC via Epic Games Store and Ubisoft Store. Ubisoft has confirmed again that Far Cry 6 will have a free next-gen upgrade.
In VGC's recent Far Cry 6 hands-on preview, we said: "Whether Far Cry 6's small steps forward – and its stunning environments – are enough to entertain fans for another open-world epic will remain to be seen, but right now the game feels more like a guerrilla evolution than revolution."
The open-world shooter casts players as Dani Rojas, a resistance fighter leading a modern-day guerrilla revolution to liberate the fictional island of Yara, a "tropical paradise frozen in time" under dictator Anton Castillo, who is played by Breaking Bad actor Giancarlo Esposito.
Castillo's son, Diego, is a 13-year-old being groomed to follow in his father's footsteps. He's played by Anthony Gonzalez, who voiced the lead character in Pixar's Coco.
As a guerrillas fighter, players must be resourceful and us a roster of makeshift weapons and gadgets, plus a return of the animal companion system from the previous Far Cry title.
The game's soundtrack was created by Narcos composer Pedro Bromfman.
At the time of the game's announcement last July, Yara was described as Ubisoft's "largest and most ambitious open world yet", with beaches, jungles and urban environments to explore.