Fantasy RPG Atlas Fallen revealed at Gamescom Opening Night Live
It's coming to PlayStation 5, Xbox Series X/S and PC in 2023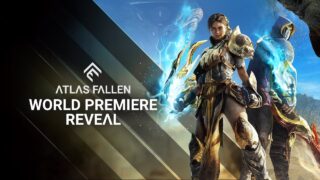 Focus Entertainment and Deck13 Interactive have announced a new fantasy action RPG called Atlas Fallen.
The game's debut trailer, which premiered at Gamescom Opening Night Live on Tuesday and is viewable below, shows two fighters battling exotic creatures with sand-infused weapons.
Atlas Fallen will be released for PlayStation 5, Xbox Series X/S and PC in 2023.
Atlas Fallen - World Premiere Reveal Trailer
"Atlas Fallen takes you to a semi-open world full of ancient mysteries and threats," according to an official description of the game.
"Rise from the dust and liberate mankind from the oppression of corrupted gods.
"Glide the sands of a timeless land, filled with ancient dangers, mysteries and fragments of the past. Hunt legendary monsters, using powerful, shape-shifting weapons and devastating sand-powered abilities in spectacular, super-powered combat.
"Target and gather the essence of your enemies to shape your own custom playstyle, forging a new era for humanity in a fully cooperative or solo story campaign."