Fantasian Part 2 will be released this Friday
Second part promises 40-60 hours of content and more "quest-driven" gameplay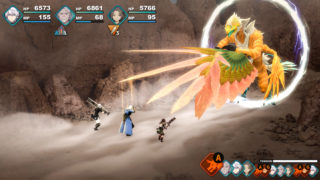 Fantasian Part 2 will be released on Apple Arcade this Friday, August 13.
According to developer Mistwalker's announcement (via IGN), the second part of Final Fantasy creator Hironobu Sakaguchi's latest RPG promises more "quest-driven" gameplay than the first part, which released in April and was relatively story-focused.
The studio said it expects Part 2 to take players 40-60 hours to play in full.
In Part 2, players will be able to swap party members in and out of battle and the game's Growth Map has also been expanded. It also introduces 34 new music tracks from composer Nobuo Uematsu.
Sakaguchi hinted at Fantasian Part 2's impending release last week.
"The second part of Fantasian is almost finished", he told Famitsu. "This part is twice as large as the first part, which exceeded our expectations. The boss monsters are also unique and challenging.
"I'd like to thank all the development staff, the diorama makers, and all the sound staff including Mr Uematsu. They gave it their all. I think it's a great game!"
Fantasian marked Sakaguchi's return to traditional turn-based RPG gameplay for the first time since 2007's Lost Odyssey for Xbox 360.
The game's environments are all real-life dioramas created by Japanese artists who have worked on 'tokusatsu' (special effects) films including the Godzilla movies, Attack on Titan and Ultraman. These dioramas were then scanned and turned into in-game environments, resulting in realistic backgrounds.
Sakaguchi told VGC in a interview earlier this year that Fantasian could be his final product.