Final Fantasy creator's Fantasian is available now on Apple Arcade
Final Fantasy creator Hironobu Sakaguchi's mobile epic has finally been released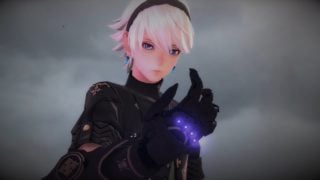 Fantasian, the highly anticipated RPG from Final Fantasy creator Hironobu Sakaguchi, has just been released on Apple Arcade.
Developed by Mistwalker, Fantasian is exclusive to Apple's subscription service and sees Sakaguchi's return to traditional turn-based RPG gameplay for the first time since 2007's Lost Odyssey on Xbox 360 and also features a new soundtrack by legendary Final Fantasy composer Nobuo Uematsu
Players take on the role of protagonist Leo, who wakes up following an explosion to find himself lost in a strange realm ruled by machines and with only a single memory.
The game's environments are all real-life dioramas created by Japanese artists who have worked on 'tokusatsu' (special effects) films including the Godzilla movies, Attack on Titan and Ultraman. These dioramas were then scanned and turned into in-game environments, resulting in realistic backgrounds.
Sakaguchi told VGC in a recent interview that Fantasian could be his final product.
Speaking to us last month, the veteran designer was addressing previous comments he made about his long-time collaborator Nobuo Uematsu, whom he said had likely completed his final full soundtrack with Fantasian, due to unspecified health issues.
The 58-year-old Mistwalker founder, who has worked on many acclaimed role-playing games such as Chrono Trigger and Kingdom Hearts, told VGC he had also approached Fantasian as if it were his final full title, and suggested that the developer's plans beyond the game's two scheduled episodes were yet to be set.
"I think it is certainly possible that this could be my last project," he told VGC, "and that was kind of in the back of my mind as we were developing it."
Apple Arcade subscribers can download the game now.