Fans think a trip to Nando's inspired Pokémon Scarlet and Violet
Producer's visit to the restaurant may have set the Spanish-themed games in motion.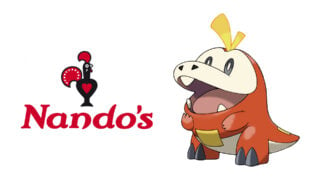 Pokémon fans believe that the popular South African restaurant Nando's could have inspired the upcoming Pokémon Scarlet and Violet games.
The theory, which was first popularised by Twitter user @3clipse_tt, suggests that series producer Junichi Masuda's trip to the restaurant during a London visit may have provided inspiration for the upcoming games.
Matsuda tweeted in 2019 that he'd visited Nando's in Richmond, London, right around the time Scarlet and Violet were likely in the early stages of planning.
Pokemon Scarlet and Violet Guides:
Pokemon Scarlet and Violet walkthrough, tips, and Pokemon locations | Roaring Moon location | Iron Valiant location | Shiny sandwich recipes | Pokemon Scarlet and Violet Legendaries | How to find Shiny Pokemon in Scarlet and Violet

The connection is seemingly based on recent comments made by Masuda and designer Shigero Ogmori, who stated that during a trip to the Barcelos region of Portugal they thought that a rooster Pokemon could make an interesting addition to the series. The Barcelos rooster is the logo and mascot for Nando's restaurant.
According to BallGuyLeaks, Masuda has also liked a recent tweet alluding to this visit to Portugal, supporting the theory.
The theory goes on to posit that one of Violet and Scarlet's new starters, Fuecoco, was inspired by the African Bird's Eye Chilli, the colour of which features on all branding for Nando's.
Fuecoco is a small fire-type Pokemon that is clearly inspired by a chilli, however which chilli is yet to be confirmed.
However, another part of the theory, which suggests that the game's official logo uses the same fonts as Nando's official marketing material isn't entirely accurate. While they are similar, they aren't actually the same font. Nando's currently uses a custom-designed font known that was designed by South African sign-writer Marks Salimu.
Oranges and grapes, two signature fruits of Spain have been featured regularly in the marketing material of Pokemon Scarlet and Violet, and fans have made the connection to the "Designed by Nando's" drinks menu which offers multiple original soft drinks that use the two fruits as a base ingredient.
The link here may again be tenuous as Nando's is a Portuguese-inspired, South African owned restaurant, if the new games take inspiration from all of the Iberian peninsula and not just Spain, it could fit.
We've reported extensively on the reveal trailers for Pokémon Scarlet and Violet and detailed why many believe that the games will be set in a region inspired by Spain, with possible Portuguese influences as well.
Architecture, clues in the trailer, and the names of the starter Pokemon all point to the location for the new games, which follows the tradition of every mainline Pokemon game being inspired by a real part of the world.
The first four generations of games were inspired by regions across Japan. Pokémon's fifth generation of games, Pokémon Black & White took place in the Unova region which was inspired by the US.
Pokémon fans have also discovered what they believe to be a teaser for Pokémon Scarlet and Pokémon Violet in Pokémon Sword & Shield.
There are currently 21 Pokemon confirmed to be included in Pokémon Scarlet and Pokémon Violet. 
Related Products
Other Products
Some external links on this page are affiliate links, if you click on our affiliate links and make a purchase we might receive a commission.