Fallout TV show leaked set photos reportedly show 'Shelter 33'
The images show the Amazon series' attention to detail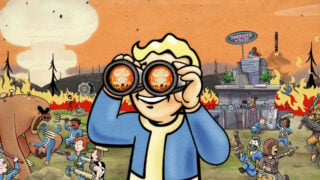 New set photos from Amazon Prime's upcoming Fallout TV series have been leaked online.
Posted on Tuesday by unofficial Twitter fan account 'BethesdaArabic', the photos reportedly show the set for Shelter 33, a shelter they say is "completely new to the series".
The photos show various hallways and rooms in the shelter, indicating that a great deal of Shelter 33 will be a physical set and not CG.
There are also some shots showing bluescreens, suggesting that the area will not be entirely free of digital effects.
The Fallout series, which will be shown on Amazon Prime Video, is being produced by Kilter Films, the production company behind HBO's Westworld.
The debut episode will be directed by Westworld co-creator and executive producer Jonathan Nolan, while Captain Marvel and Tomb Raider 2018 film co-writer Geneva Robertson-Dworet, and Silicon Valley co-executive producer Graham Wagner, have also been appointed as showrunners.
Nolan, fellow Westworld co-creator Lisa Joy and Athena Wickham will executive produce the Fallout series for Kilter Films, along with Bethesda Game Studios game director Todd Howard and Bethesda Softworks' James Altman.
Bethesda first announced plans to collaborate with Amazon and Kilter Films for a Fallout TV series in July 2020.
"Fallout is one of the greatest game series of all time," Joy and Nolan said in a joint statement at the time. "Each chapter of this insanely imaginative story has cost us countless hours we could have spent with family and friends.
"So we're incredibly excited to partner with Todd Howard and the rest of the brilliant lunatics at Bethesda to bring this massive, subversive, and darkly funny universe to life with Amazon Studios."