Fallout 76 Wastelanders update released as game makes Steam debut
Expansion adds human NPCs and a new main story, among other features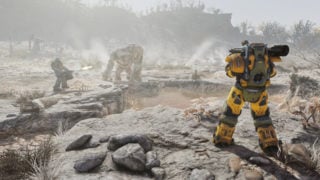 Bethesda has released Fallout 76's Wastelanders update for PC, Xbox One and PS4.
Originally scheduled to launch in 2019, the Wastelanders expansion "changes the entire world" with the addition of human NPCs.
Free for all players, the update also introduces a brand-new main questline, plus fresh locations, enemies and weapons.
Alongside the Wastelanders update, Bethesda has released two premium Faction-themed content bundles featuring exclusive cosmetic and C.A.M.P. items.
Fallout 76 has also been released on Steam for the first time today.
We've listed the key Wastelanders features below, and you can read the full patch notes here.
Wastelanders update highlights
People Are Back!: Whether in search of rumored fortune, or mere survival, people have returned to Appalachia in droves. Get to know them through the new dialogue system.
New Main Story: Experience the new story that Wastelanders brings to Fallout 76 by completing all-new main quests.
Meet the Factions: Who will you side with: The Raiders at Crater, or the Settlers at Foundation? Aid them in their endeavors to earn Reputation and unlock new items.
Recruit an Ally: Certain NPCs can come to live in your C.A.M.P., help defend it, and offer you daily quests. Some also bring story quests and romance opportunities.
More Events and Dailies: Take on challenging new events, like Riding Shotgun and Radiation Rumble. There are also four new daily quests to explore.
New Items and Enemies: Hunt down the monstrous Wendigo Colossus or a pack of Floaters, but don't forget to pack your new Gauss Minigun!
New and Updated Locations: New arrivals in Appalachia are certainly making their mark on the world. Discover new and updated locations as you quest and explore.

Bethesda introduced a premium subscription model for private Fallout 76 servers in October 2019. Subscribers can pay $12.99/£11.99 per month or $99/£99.99 annually to play the game solo or with up to seven friends in a private world.
Following E3 2020's cancellation, Bethesda said this month that it won't replace its plans for the event with a digital showcase of its upcoming games.