Fall Guys is adding a crossover skin featuring Team Fortress
The Scout will be available to purchase today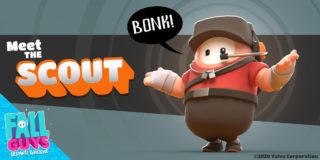 Fall Guys has announced a crossover skin featuring the Scout from Team Fortress.
The paid cosmetic will be available later today via the in-game store, developer Mediatonic announced on its Twitter account. However, no pricing details were confirmed.
It's the second post-release crossover skin released for the game, following the Hotline Miami cosmetic added last week.
Fall Guys released for PS4 and Steam on August 4, with the console version also available via PlayStation Plus this month.
The battle royale platformer has proved hugely popular since its release, selling 2 million copies on PC alone in its first week, and amassing over 10 million players on PS4 according to a profile tracking site.
Mediatonic has said it would "love" to bring the colourful last man standing game to other platforms in the future.
In an update on its support site regarding the possibility of releasing the game for Xbox One, Switch or other platforms, Mediatonic said: "To start with, Fall Guys will only be available on PS4 and Steam. We'd love to bring the game to other platforms further down the line."
The studio released Fall Guys' first update on Wednesday, which introduced a new level called Jump Showdown. "More new levels will be coming soon – along with new features & costumes," it said.
Full patch notes for the update can be found here.