Fall Guys Season 4 teaser video reveals a futuristic new level
Skyline Stumble is one of seven stages coming to the game soon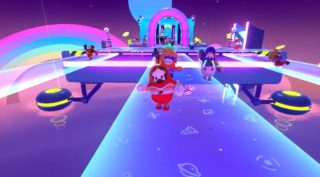 Mediatonic has released a new teaser video for Fall Guys Season 4.
The studio confirmed the first details about the upcoming season in late February, when it revealed that Season 4 will be "traveling to the future".
The year in question is 4041 and it's happening "soon", it said at the time.
A teaser video released on Wednesday reveals Skyline Stumble, one of seven new stages headed to the game.
It's billed as "a 60-player gauntlet with Low Gravity Zones, Forcefields, Flippity Bippities, Chonky Buttons, and Spicy Light Swingers!"
Epic Games announced this month that it had acquired Tonic Games Group, the parent company of Mediatonic, for an undisclosed sum.
In an update on its website, the studio's new owner said Fall Guys "gameplay isn't changing" and that it will continue to support the title across platforms.
And in a separate FAQ, Mediatonic confirmed that the Steam version of Fall Guys will remain purchasable and receive future updates.
The developer also said it wants to bring several features offered in Epic titles Fortnite and Rocket League to Fall Guys including account systems, cross-play and squad vs squad modes.
Mediatonic also raised the subject of the game potentially adopting a free-to-play model like Epic's aforementioned titles, stating: "Nothing to announce right now!"
Fall Guys released for Steam and PS4 in August 2020. It quickly became the most downloaded PS Plus title of all time and has sold over 11 million copies on PC, according to Mediatonic.
The chaotic battle royale game will be released for Nintendo Switch and Xbox consoles this summer.