Fall Guys raises $1m for video games charity with bids from Ninja and others
Top bidders combine to raise funds for UK-based Special Effect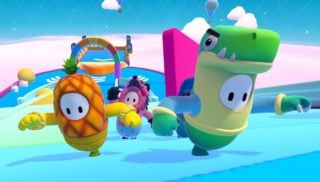 Fall Guys developer Mediatonic ended a two-week auction on Sunday, raising $1 million for video games charity SpecialEffect.
The promotion, which was set to see the highest bidder rewarded with their own custom costume in the last-person-standing platformer, concluded with four top bidders combining their offers to reach the $1 million total.
The top bidders were streamers Ninja and Mr. Beast, esports club G2 and Steam software Aim Lab. Each will now have custom costumes released within Fall Guys.
SpecialEffect is a UK-based charity that helps people with physical disabilities around the world play video games. Outside of the promotion, regular donations can be made to SpecialEffect on its website.
In a follow-up Tweet, Tyler 'Ninja' Blevins – who is one of the world's most popular streamers – said he would hold a charity stream with his fellow top bidders to raise further money for Special Effect.
"We're blown away," said Dr Mick Donegan, Founder and CEO of SpecialEffect. "A huge thank you to @MrBeastYT, @Ninja, @G2esports and @aimlab for their amazing generosity, and to Mediatonic and Devolver Digital for this unique initiative."
He added: "When the COVID-19 pandemic restrictions hit earlier this year, the charity was facing a significant reduction in funding income due, in part, to many of its key fundraising events being cancelled or postponed.
"As a charity that doesn't charge for its services, this donation will be invaluable in helping to make up for that shortfall. It will enable us to continue an uninterrupted service for the many people with severe physical disabilities and developers around the world who are asking for our help in ever greater numbers year on year.
"What's more, the demands on our services are rising even more rapidly as a result of the auction itself. Bring it on!"
Fall Guys: Ultimate Knockout released for Steam and PS4 on August 4, with the console version available for free to PlayStation Plus members this month.
The Devolver-published game has sold more than seven million copies on Steam and has also become the most downloaded PS Plus game of all time on a global basis, according to Sony.