Evo Japan Smash Bros. champion drops prize controller
Shuto "Shuton" Moriya was presented exclusive pad by director Masahiro Sakurai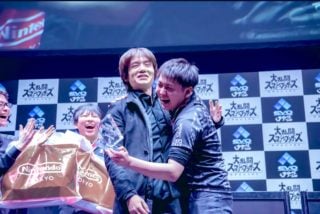 Japanese esports player Shuto "Shuton" Moriya won the Super Smash Bros. Ultimate tournament at Evolution Championship Series (Evo) Japan this weekend, after a number of dominant performances.
The professional Smash player, who finished just outside the top ten in last year's main Evo event, was presented with a special golden Nintendo Switch Pro Controller for winning the 3000-person tournament.
The prize was handed over by game director Masahiro Sakurai, just before Moriya appeared to drop it off the presentation stage.
The Smash professional seemed to laugh off the incident before embracing director Sakurai in celebration.
Evo Japan 2020 was Shuton's first major tournament win as a Smash player. Director Sakurai appeared to salute Shuton's win following the event with a screenshot featuring his main, Pikmin's Olimar.
Super Smash Bros. Ultimate was the only featured title at the event to not have a monetary prize pool. Instead players received goodie bags from the Nintendo Tokyo store, in addition to Shuton's special Smash controller.
Both Tekken and Street Fighter V boasted prize pools of around 2 million JPY ($18,154 USD / £13,961 GBP), with the overall tournament winners for each game taking home around half that amount.
Last year Super Smash Bros. Ultimate recorded the highest peak viewership of any title in Evolution Championship Series history at its main event in Las Vegas.
However, Smash Bros. Ultimate's prize pool was also comparatively low compared to some other titles at the event, and Nintendo was criticised for not supporting the tournament with additional prize funds.
Addressing the issue in an interview with Nikkei (translated by Japanese Nintendo) this month, Nintendo president Furukawa suggested that the lack of monetary prize support wasn't a weakness in the company's esports strategy, which he said prioritises inclusiveness.
"Esports is where players compete on stages while revolving around prize money, and spectators enjoy watching that. It launches one of the amazing appeals of video games," Furukawa said.
"But there is no sense of antagonism. In order to make our company's games be played by a broad range of people, regardless of experience, gender, or generation, we also want to make our events joinable by a broad range of people.
"Being able to have a different world view from other companies – without a large sum of prize money – is our strength," Furukawa claimed.
You can see Shuton's winning final match above.