Evil Genius 2 is coming to consoles this year, including Xbox Game Pass
World Domination will hit Xbox and PlayStation systems in the fourth quarter of 2021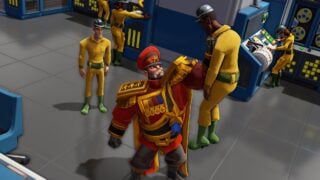 Rebellion will release Evil Genius 2: World Domination for consoles later this year.
The management simulator will hit Xbox Game Pass, Xbox One, Xbox Series X/S, PlayStation 4 and PlayStation 5 in the fourth quarter of 2021.
The sequel to cult 2004 sim Evil Genius first released for PC in March 2021.
It sees players take on the role of one of four Bond-style villains and create an underground lair where they form plans for world domination.
Players are tasked with training minions and recruiting henchmen before dispatching them on missions across the globe. Missions range from kidnapping the Governor of Maine to melting Alaska, to selling the British Royal Family.
VGC's 3/5 Evil Genius 2: World Domination review praised the game for its sense of humour and inventive room designs, but said it was let down at times by annoying AI minions.
"Evil Genius 2 captures the spirit of the original and still provides plenty of entertaining moments as a result, but the fiddly interface and the lack of any options to manually control its often moronic minions makes it a real exercise in patience at times," critic Chris Scullion wrote.