Everybody's Golf's spiritual sequel has quietly released on Nintendo Switch
The game was announced during the Japanese broadcast of Nintendo Direct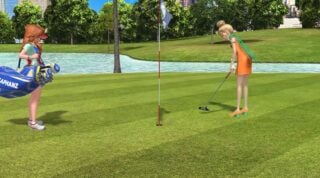 Easy Come, Easy Golf, a new re-release of Clap Hanz Golf, has been released on the Nintendo Switch.
Announced during the Japanese version of the Nintendo Direct, the game is a port of the mobile game that was released last year by former Everybody's Golf developer ClapHanz on Apple Arcade.
The game costs £17.59 on the UK Nintendo Store.
Clap Hanz was founded in 1998 and spent its first two decades working with Sony Interactive Entertainment on Everybody's Golf and its Tennis and VR spin-offs.
In total, the studio released 13 instalments across every PlayStation console.
Given its strong Sony ties, many were surprised to see the studio release a game for Apple's Arcade service in April 2021.
Clap Hanz Golf, which is still available on the iOS subscription service, features several modes (including local multiplayer) and colourful characters reminiscent of Clap Hanz' previous series.
Its release came on the same week Sony effectively dissolved its Japan Studio, the developer known for creating original games such as Knack, Gravity Rush and Ape Escape.