Escape from Tarkov won't add female characters 'due to animation work required'
Battlestate Games also claims it wouldn't fit with popular Twitch game's lore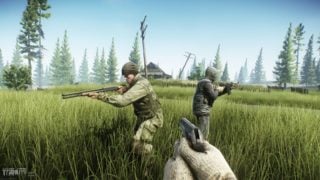 The developer behind popular shooter Escape from Tarkov has said it won't be adding playable female characters to the game primarily due to the amount of work required to do so.
Additionally, Russian studio Battlestate Games claimed that the addition of female playable characters wouldn't fit with the game's lore.
In beta since 2017, Battlestate describes Escape from Tarkov as a hardcore story-driven MMO featuring FPS and RPG elements.
The game recently enjoyed a massive surge in popularity on Twitch coinciding with a December 30-January 5 event which gave viewers the chance to redeem in-game items simply for watching selected streamers play the game.
According to Dot Esports, the event drove the game's Twitch viewership figures above 30 million hours in one week, a figure only broken last year during some of esports' biggest moments including the League of Legends and Dota 2 world championships, and following the launches of Apex Legends and World of Warcraft Classic.
Prior to the week in question, Escape from Tarkov had recorded just over 60 million hours watched throughout 2019.
With Escape from Tarkov's popularity booming, Battlestate Games took to Twitter this week to address the lack of female playable characters in the game – and to distance itself from comments previously given on the subject.
In a 2016 interview with Wccftech, developer Pavel Dyatlov claimed that after deliberation, Battlestate "came to the conclusion that women are not allowed to be in the war" as "a women can't handle that amount of stress."
Battlestate tweeted on Monday that Dyatlov was not a key BSG employee, his comments were probably "misinterpreted and as a result didn't reflect the official position of the company, that we always respected women in wars and military women."
It added: "The employee was reprimanded and properly instructed. We are sorry for caused confusion."
Battlestate followed up by providing the official company line for the decision not to include female playable characters.
"And just to finally clear the question about women in EFT. First – there are women in EFT already (trader, some future key storyline quests will have women as main characters)
"But there will be no playable female characters because of game lore and more importantly – the huge amount of work needed with animations, gear fitting etc."