Epic's Rumbleverse is shutting down after just six months
The free-to-play brawler will end its live services on February 28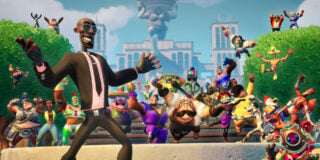 Rumbleverse, the free-to-play brawler by developer Iron Galaxy and publisher Epic Games, will shut down at the end of this month.
Live services for Rumbleverse will go offline on Tuesday, February 28, at 10AM CST – just six months after the game launched in August last year.
Any player who has spent money on Rumbleverse is eligible for a refund of money spent on or in the game, a blog post on the game's website states.
On Tuesday, the game's final update will be deployed and the current Battle Pass granted to everyone. XP gains will also be doubled, and additional accessories and emotes unlocked for free.
Developer Iron Galaxy, which is also known for 2013's Killer Instinct reboot, wrote in a heartfelt note on its website that it hoped it would be able to resurrect Rubmbleverse in the future.
"It is our sincerest hope that this news does not mark the end of Rumbleverse. You may not yet have seen the Rumble in its final form.
"If we can welcome people back onto the deck of the battle barge again, we hope you'll be there, laced up and ready to take your rightful place in the cannon.
"Iron Galaxy will keep making games. It's our passion and our purpose. Our people are filled with skills and inspirations to keep the world playing."