Epic would 'retreat from exclusives' if Steam matched its revenue share
CEO says "such a move would be a glorious moment in the history of PC gaming"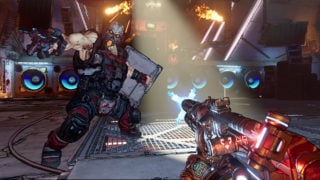 Epic Games CEO Tim Sweeney has said the company would back away from signing PC exclusives for its store if Valve increased the revenue share it offers developers and publishers for releasing games on Steam.
The Epic Games store offers developers an 88 per cent share of the revenue their games bring in, compared to the 70/30 per cent revenue split offered by Valve.
The more attractive revenue split has helped Epic secure some major PC exclusives including Metro: Exodus and the upcoming Borderlands 3, which won't arrive on other PC storefronts until six months after its initial release.
But in a lengthy Twitter thread, Sweeney said such deals would become a thing of the past if Valve matched Epic's more favourable terms.
"30% store dominance is the #1 problem for PC developers, publishers, and everyone who relies on those businesses for their livelihood," he said. "We're determined to fix it and this is the one approach that will effect major change.
"If Steam committed to a permanent 88% revenue share for all developers and publishers without major strings attached, Epic would hastily organize a retreat from exclusives (while honoring our partner commitments) and consider putting our own games on Steam," Sweeney added.
"Such a move would be a glorious moment in the history of PC gaming, and would have a sweeping impact on other platforms for generations to come. Then stores could go back to just being nice places to buy stuff, rather than the Game Developer IRS."
The Epic Games store's user base has grown to over 85 million PC players since launching as a rival to Steam in December 2018, according to Epic.