Epic reportedly paid over $10 million for Control PC exclusivity
Payment was made to the parent company of publisher 505 Games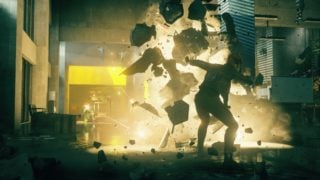 Epic Games reportedly paid €9.49 million ($10.41 million) for the rights to sell Control exclusively through the Epic Games store for a one-year period.
The payment was revealed in a financial report published by Digital Bros, the Italian parent company of Control publisher 505 Games.
"The payment from Epic was 100% for Control and was for the exclusivity deal," according to Niko Partners analyst Daniel Ahmad.
"Unclear if there were any other strings attached to the payment, other than exclusivity."
55% of the money Epic paid for Control exclusivity went to the game's publisher, while the remaining 45% went to developer Remedy Entertainment.
Epic Games store exclusivity payments are reportedly a minimum guarantee on sales and are considered an advance on the 88% of sales revenue Epic gives companies who sell their games through its digital storefront.
An Epic Games store representative told GameDaily.biz: "We don't comment on the terms of our deals."
While Epic offers developers an 88% share of the revenue their PC titles generate, Steam offers developers a 70% share. Its more attractive terms have helped Epic secure some major PC exclusives including Control, Metro: Exodus, Borderlands 3 and Shenmue III.
Epic CEO Tim Sweeney recently defended the company's strategy of signing PC exclusives for its digital storefront, claiming it's the only way to challenge Steam.
Related Products
Other Products
Some external links on this page are affiliate links, if you click on our affiliate links and make a purchase we might receive a commission.