Epic partner Ubisoft says Steam's business model is 'unrealistic'
Publisher criticises 70/30 per cent revenue split offered by Valve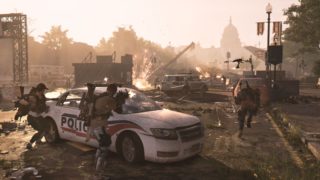 Ubisoft has labelled Steam's existing business model "unrealistic".
While the Epic Games store, which launched in December 2018, offers developers an 88 per cent share of the revenue their PC titles generate, Steam offers a less generous 70/30 per cent split.
Chris Early, Ubisoft's vice president for partnerships and revenue, suggested Valve's model was outdated during an interview with the New York Times.
"It's unrealistic, the current business model that they have," he said. "It doesn't reflect where the world is today in terms of game distribution."
In March, Ubisoft released The Division 2 via the Epic Games store and its own digital distribution platform Uplay. The game isn't available on Steam.
Its more attractive terms have helped Epic secure some major PC exclusives including Control, Metro: Exodus, Borderlands 3 and Shenmue III.
Epic CEO Tim Sweeney recently defended the company's strategy of signing PC exclusives for its digital storefront, claiming it's the only way to challenge Steam.
Fredrik Wester, executive chairman of the board at publisher Paradox, said in June that Epic Games has done "a great job for the whole industry" with the launch of its PC storefront.
"I think the 70/30 revenue split is outrageous," he said. "I think the platform holders are taking too much money."
Wester claimed the dominant 70/30 revenue split is an outdated model based on the distribution of movies on boxed VHS tapes. "That was physical. It cost a lot of money. This doesn't cost anything. So Epic has done a great job for the whole industry, because you get 88%. Fantastic move. Thank you very much."
Take-Two boss Strauss Zelnick said in August he expects increased competition among platform holders to drive down platform fees.