Epic Games store launches 'up to 65% off' Halloween sale
Discounts available on over 30 games until November 1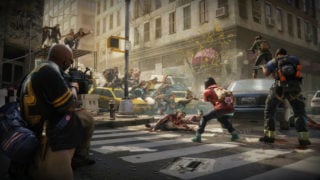 The Epic Games store has launched a Halloween sale featuring discounts on over 30 titles.
31 games are currently discounted until November 1 at 11am EDT, including World War Z for £18.23 (normally £31.99), Control for £35.99 (normally £47.99), Heavy Rain and Beyond: Two Souls for £12.79 each (normally £15.99), The Walking Dead : The Telltale Definitive Series for £27.99 (normally £39.99), and Rainbow Six Siege for £6.79 (normally £16.99).
It's unclear if new games will be added to the sale later or if the current discounts are all we'll see.
It's worth noting that several of the discounted titles have previously been given away as part of the Epic Games store's free weekly game offer, including For Honor, Alan Wake, Limbo and Inside.
Epic originally launched a bi-monthly free game offer alongside its PC storefront in December 2018, but said in May it was increasing the frequency of the offer to one free game per week until the end of 2019.
Alan Wake's American Nightmare and Observer are currently free to download from the Epic Games store until October 24, when they'll be replaced by first-person puzzle sequel Q.U.B.E. 2 and first-person psychedelic horror game Layers of Fear.
Other titles previously offered for free have included This War of Mine, Overcooked, World of Goo, Transistor, The Witness, Hyper Light Drifter, Mutant Year Zero: Road to Eden, and Fez.
Epic launched Fortnite Chapter 2 on October 15 with story and battle pass trailers revealing the game's new map and more.
Sony is also currently running a PlayStation Store Halloween sale featuring discounts on a range of PS4, PS3 and Vita games until November 1.