Epic Games store exclusivity 'not Bandai Namco's vision'
Tekken publisher wants its games "to be available for as many fans as possible"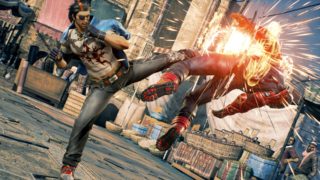 A senior executive at Bandai Namco doesn't expect the Japanese publisher to release any of its titles through the Epic Games store while the digital storefront's focus is on securing exclusives.
Bandai Namco Europe's SVP of marketing, digital and content Hervé Hoerdt told MVC the Tekken publisher's strategy is to make its games available to as many consumers as possible.
"We cannot do everything and Japanese [companies] are not risk averse but we're going slowly. So we have a full platform strategy," he said. "The main focus for us is the consumer and the brand. And for each brand we decide what's the best way to satisfy the consumer and to engage the widest audience possible.
"So for instance, I don't see any point of putting Tekken 7 on Epic Store," he continued. "Epic is just another store. It's fantastic, they have a lot of strength and [lots of] users, the business model is attractive to us because it's more profitable but still, their interest is, if I'm correct, exclusivity.
"And this is not our vision. We want our content to be available for as many fans as possible. I don't think we'll deal with Epic in the short term, while we have this strategy. But of course, if they're open, we'll go there."
Upcoming Bandai Namco titles include Elden Ring, which was announced at E3 in June, and Little Nightmares 2, which was revealed at Gamescom in August.
The Epic Games store offers developers an 88 per cent share of the revenue their games bring in, compared to the 70/30 per cent revenue split offered by Steam.
The more attractive revenue split has helped Epic secure some major PC exclusives including Control, Metro: Exodus, Borderlands 3 and Shenmue III.
Epic CEO Tim Sweeney recently defended the company's strategy of signing PC exclusives for its digital storefront, claiming it's the only way to challenge Steam.