Epic confirms Fortnite season 9 date
New content teased for May 9 kick-off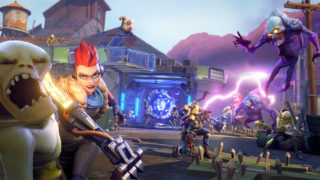 Fortnite season nine will kick off Thursday May 9, Epic has confirmed.
The launch date for the new season of content was confirmed in a teaser posted on Twitter.
Over the weekend, a live event to mark the close of season eight was marred by technical issues which prevented some users from witnessing or participating in the proceedings.
It began with the opening of a vault located in Loot Lake. Players who entered it were given the chance to vote for one of six items they'd like to see returned to the game, including aeroplanes and the Infinity Blade. The drum gun was the winner.
When players returned to the island, the volcano introduced at the start of season eight exploded, destroying Tilted Towers and damaging other areas of the map including Retail Row.
It's unclear how many people were unable to witness the live event. Epic has said it's looking into the scope of the issue and VGC has requested further comment.
Players who missed it can now download the replay file to view the video in the game client.
"We apologise that some players were unable to view the Unvaulting event," Epic said on Sunday.
"Anyone who jumped into the Unvaulting playlist will be granted the Arcana Glider in the coming days. Players who purchased the Arcana Glider previously will be refunded their V-Bucks."