Engineer builds 'world's largest' Switch and donates it to a children's hospital
Oversized hardware is 650% larger than a regular Switch, with fully functioning controls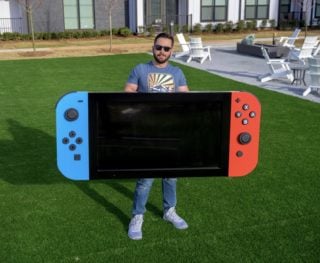 An American engineer has built the "world's largest" Nintendo Switch and donated it to a local children's hospital.
Measuring 70 by 30 inches and weighing nearly 30kg, the giant console is estimated to be 650% larger than a regular Nintendo Switch.
The oversized hardware was built by "casual engineer" Michael Pick, who shared a video detailing the creation on YouTube this weekend.
Pick built the giant Switch so that it could be donated to the Saint Jude's Children's Hospital in Nashville, Tennessee. Commenting on Reddit, he said: "The kids loved it! Honestly the best part of this build."
"I really like the Nintendo Switch. It's small, it's portable… but it's really easy to lose, and for me that was a problem," he said. "So I decided to fix that by making something that was a little bit larger, and just a little bit harder to lose."
As shown in the video, every button on the giant Switch's wooden Joy-Cons works, including the shoulder buttons and joysticks, but players can also use external controllers to play.
The build works by hiding a regular docked Switch and television inside its housing. Regular sized Switch Joy-Cons have been placed inside 3D printed mounts, which uses physical levers to press their buttons when the giant version is interacted with.
Meanwhile, the giant joysticks are mounted above the actual Joy-Con sticks and work by moving the real input.
Pick noted that he incorporated chargers into the Joy-Con mounts, so that they don't run out of battery power inside of the giant housing.
Switch had shipped almost 80 million consoles worldwide as of December 31, 2020, according to Nintendo. Nintendo's president says Switch's successor will 'need to offer a new experience'.